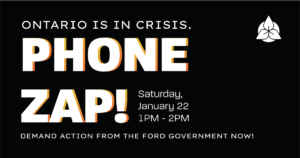 Join the emergency online day of action this Saturday!
CUPE activists,
Ontario workers are sounding the alarm!
Our province is facing its worst public health crisis since the COVID-19 pandemic began almost two years ago. Health care providers are describing it as a "full-blown emergency." Schools aren't equipped to protect students and education workers. Most Ontarians still don't have access to paid sick days.
And the situation is getting worse with each passing day.
There is a dire need for a historic investment in our public services – health, education, and others – to deal with the ravages of this wave and to finally put in place measures to help prevent and mitigate the next one. Yet at every stage of the pandemic, Doug Ford's government has failed to protect workers and keep our communities safe. It didn't have to be this way.
This Saturday, the Ontario Federation of Labour will be hosting a province-wide emergency day of action to hold the Ford government accountable.
The action will take place online and is only one hour. Click here to sign up.
In the first part of the meeting, front-line workers in health care, education, and other sectors will let us know the scale of the crisis we're facing.
In the second part of the meeting, activists will take action in a province-wide Phone Zap of Doug Ford and his government. We will make our demands loud and clear:
Recall the legislature for an emergency session to address the deepening public health crisis facing Ontarians.
Repeal Bill 124, one of the largest contributing factors to the unprecedented staffing crisis in our health care system.
Legislate a minimum of ten permanent employer-paid sick days for all workers in the province, and ensure an additional 14 paid sick days during the pandemic. Workers who contract COVID at work must also have greater access to WSIB support.
Hold an emergency summit of all stakeholders in the health care system and develop a rapid response plan to hire the tens of thousands of health care workers required to address the staffing crisis. In the long term, Ontario requires a strategy to address the chronic underfunding of health care and other public services.
Require health care and educational institutions to provide airborne precautions to staff, patients, residents, and students. Extend the same protections to frontline workers in grocery stores, food service, transit, and other essential sectors.
Launch an emergency public health campaign to communicate the urgency of the situation facing Ontarians and build broad public support for a comprehensive public health strategy.
This action is just the start of a bigger fight-back. We encourage all of you to join.
And if you're as angry as we are about what's happening in Ontario right now, be sure to invite your family, friends, and co-workers. Every voice will make a difference.